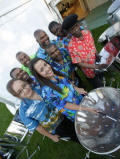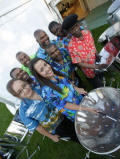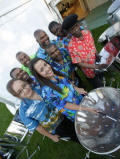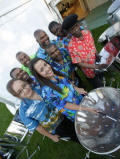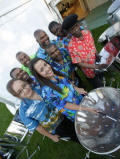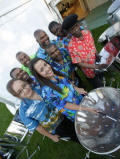 Welcome to the Steel Invaders Website

Our History
The steel Invaders have played on the gig circuit for many years and have performed with the likes of THE REAL THING & SH

O

WADDY WADDY, as well as many other modern up and coming groups. We have a wealth of experience and are flexible in our approach to your individual entertainment needs. We cater for most occasions and can play indoors or out, depending on your requirements. Our speciality is traditional Caribbean music but are adaptable to modern titles.

The Steel Invaders band are based in Cambridge and play with between 5 & 8 members depending on the size of the function and the clients requirement..

Brief History of the Steel Drum
The steelpan or steel drum originated on the island of Trinidad in the 1930's, it is the only acoustic musical instrument invented in the 20th Century. It is difficult to say exactly when the steelpan was invented as there are several versions of the history. There is some general agreement that the instrument emerged in an organised form for the first time during the second half of the 1930s. The steel orchestra is composed of instruments covering the full range of the conventional orchestra. There are tenors, double seconds, guitars, cellos, quadros and bass, plus a percussion/rhythm section. These instruments traditionally are made from used oil drums, although some tuners now use new ones or even specially made ones.

The steelpan capabilities far exceed the realms of Caribbean music and Carnival. It is capable of playing jazz, pop, classical, reggae or hip hop, you name it and the steelpan can play it. People from John Lennon in the early 80's to 50 Cent in 2003 are always using the unique sound of the steelpan in their music. Steelpan music is infectious and uninhibited. It makes people want to dance and move around. The Steelpan movement exploded at the end of World War Two when the abundance of oil drums left behind by American air bases were put to good use. Steelpan music in the UK began with a visit to London in 1951 by T.A.S.P.O (Trinidad all Steel Percussion Orchestra) to celebrate the Festival of Britain. Steelpan is now a part of British culture. Carnivals with live steel band music are now sprouting up all over America and Europe.


What Our Clients Say

"Hi Steve, By popular demand, we would like to book you for next year on the above date, we are going for a week later than normal. A little late in the day but thank you all very much for the 5th July, we were so lucky with the weather! I look forward to your confirmation. Kind regards"
Jackie Wrightson.

"Hi Steve, They all really enjoyed last night, as I've been receiving rave reviews this morning. We'd defiantly like to have you all back in the summer for a Fete. Thanks again"
Martine D'Antonio.

"Hi Steve, Many thanks for playing for us! I'm likely to be involved in the organization of the event next year so shall be contact with you again no doubt! Best wishes"
Andy Owen.

"Hi Steve, Thanks so much for your message. We really enjoyed the evening and loved your music. Thank you so much for coming and staying so late! You were fantastic and everybody has said how much they enjoyed dancing! A few people have asked me about you so I'm sure they may ask you to play for them. Hope to see you again sometime! Best Wishes"
Philippa Tremayne

CALL or EMAIL US TODAY TO DISCUSS YOUR INDIVIDUAL
STEEL BAND ENTERTAINMENT REQUIREMENTS.

Contact Steve Ramsey - Tel: 0780 259 7427

Steel Invaders Sample 1
Steel Invaders Sample 2
Steel Invaders Sample 3
Steel Invaders Sample 4
Steel Invaders Sample 5
Steel Invaders Sample 6

We normally play

1 x 45 minute session or

2 x 45 minute sessions with a short break between each session.

We can also play other arrangements at your request.